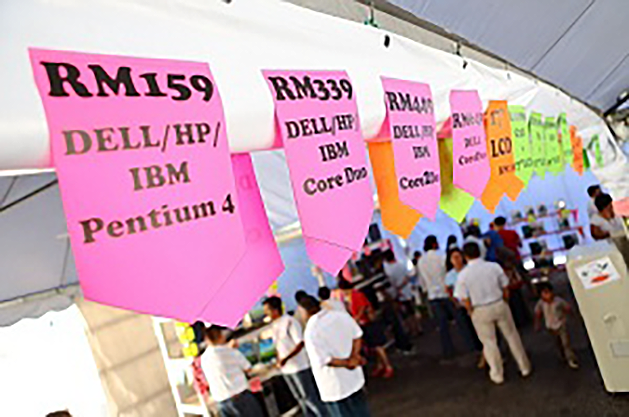 The much awaited year-end warehouse sale of refurbished IT Equipment by Rentwise took place from 30 Nov till 1 Dec 2012 from 10am to 5pm, this time, bigger and much better! This much anticipated event last opened its doors to members of the public back in December 2010. So its arrival brought smiles to many value-seekers and bargain hunters who recognized the good quality stuff on offer as always.
The event was held at Rentwise's Warehouse in Seksyen 7, Shah Alam. It just couldn't have come at a better time, as most jumped at the opportunity of finding their perfect Christmas gifts for the fast-approaching Yuletide celebrations.
This 2012 Warehouse Sale boasted the biggest batch of high quality and branded pre-owned IT equipment for sale. As a reputable organization strongly rooted in servicing numerous corporate clienteles, the average consumers are never far from mind. This mega warehouse sale had PCs suitable for both business and home users as well.
Reconditioned and branded LCDs were going from as low as RM 99, Home PCs from RM 199 and Notebooks from RM 649! One may opine that this may be too good to be true but yes, it was. It was  just simply too irresistibly true. The early birds seen streaming in as early as 9.30am in those two days before carting away large trolley-loads of purchased IT equipment was a testament to this.
The products on sale carried with them a respectable amount of raw processing power; a definite value for money. For instance, a Dell Latitude business class D620 Notebook with a Core Duo processor, equipped with 3-4GB RAM and a reasonable 160GB hard disk drive was selling for just RM 649.  IBM T60/T61/Z61T Notebook models with similar specs but powered by a Core2Duo processor were a mere RM 50 more at RM 699.
All notebooks carried with them a 1 month warranty. However, customers who preferred just that tiny bit of extra assurance could opt for the extended 1 year warranty for an additional RM 200 only. As with most resource-intensive applications in this time and age, storage and performance issues are always at the forefront in any technology equipment ownership consideration. Rentwise is aware of this sensitivity and took upon itself to cater for customizable orders. An upgrade to a 320GB notebook hard disk drive would see you parting with only RM 95, while a 2GB DDR2 notebook memory booster would pinch your wallet for a measly RM 45.
The layout of the warehouse had been carefully designed. There was a section purely on Notebooks, followed by Accessories and finally, the booth displaying a range of branded refurbished desktops and LCDs. The methodical arrangement of the warehouse sale grounds was planned thoughtfully in advance to ease congestion and traffic flow. Customers who first walked in were required to register themselves for the free admission. Once customers decided on their purchase, they proceeded to have their orders taken. For any customization required be it memory or storage upgrades, the corresponding request was tended to immediately with just a mere 30-45 minutes wait depending on traffic.
The upgraded equipment ordered was then delivered to the Collection Booth for final specifications and physical condition inspection with the customers. Satisfied customers proceeded to pay accordingly at the cashier. Customers enjoyed the flexible payment methods available, as both cash and credits cards were accepted.
Business class desktop models on offer were the Dell Optiplex 760 USFF Core2Duo 3.33Ghz with 4GB RAM for no more than RM 889 (including a 17" LCD monitor!), or a Dell/HP/IBM range powered with either a Core Duo/Core2Duo processor. Packages were available for sale either with or without an LCD panel.
An additional 1 year warranty upgrade for desktop cost RM 100, while an extension of 1 year warranty for any LCD panel would set you back by only RM 30. LCD panel sizes available were 15", 17" and 19" models; together with the decently equipped and reasonably powerful desktop or notebooks, more than catered to most average users for the usual usage pattern of word processing or internet surfing.
Truly, not just any warehouse sale but The Warehouse Sale of the year, given the attractive offerings.
A section of dedicated desktops pre-loaded with computer games were also seen at one corner, much to the relief and excitement of curious active children who waited for their shopping parents. Besides being a notable entertainment function, these powerful desktops were a live demonstration of the raw power of the refurbished desktop on sale.
Apart from notebooks, desktops and LCD panels which were clearly the main stars of the sale, there were a wide variety of Accessories available as well. The notable brand of Sandisk Cruzer pendrives of 8GB capacity was selling for just RM 29, while the Sandisk Cruzer Ultra 64GB was a steal at RM 155. A range of Logitech speakers and headset were also on display for sale right next to Bit Defender Antivirus 2013 software. Lastly, on sale were also the Toshiba 605/610/110 Series of pocket-size mobile hard disk drive.
Internet continuity is especially important with the increasing development of applications designed to run on various internet browsers. The need for minimal down time in internet connection is all the more evident with the hype on cloud-enabled services and proliferation of web-based applications that allow for easy access, anytime, anywhere. Recognizing the effectiveness and affordability of this cloud solution, Rentwise has chosen to partner with Netximizer, who was present during this sale to create more awareness to the public regarding their products and services.
As a provider of the components of a human computer interaction (HCI); i.e. desktop and LCD panels, the IT experience will not be complete without a reliable document management and print solution. Thus, Rentwise has partnered with Ricoh in this respect, given Ricoh's many years of experience and proven reliability of its product range. These partnerships clearly underscore Rentwise's dedication and ability in providing a complete end-to-end solution for the end user's work requirements; from an increased uptime with
The Special 2 Days Rentwise Warehouse Sale was undoubtedly well received. In the end, it saw more than 450 happy buyers over the 2 days sale. Customers were clearly astounded by the rock bottom prices of products on sale and many Day 1 customers came back in Day 2 and added onto their initial purchases.  With reasonably priced upgrade packages for storage and memory; it was difficult to not consider this as a timely Christmas gift purchase either for oneself, family or fellow friends.
Most importantly, customers were clearly very happy with the help and assistance offered by the friendly staffs and engineers on deck to guide their purchase decision process. Not just any regular staff, but highly qualified technical personnel to advise and help clarify all the mumbo jumbo the average customer has to grasp in any IT equipment purchase.
Quality products sold by Qualified Rentwise personnel indeed. As always, Rentwise stays true to its principles on delivering and meeting needs cost effectively.