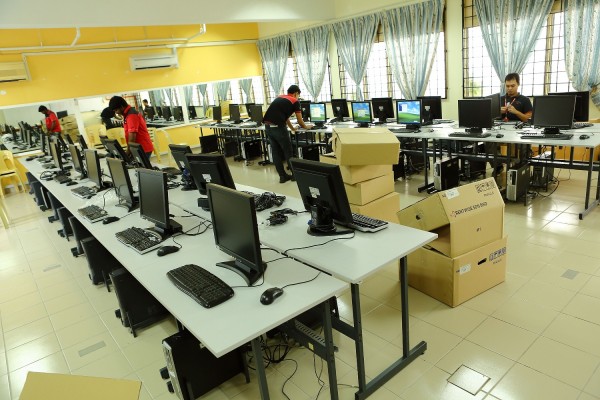 St. Mary's School, locally known as SMK St. Mary, is a public all-girls secondary school located in Kuala Lumpur, Malaysia which participated in Rentwise's CSR program. St. Mary's school is undoubtedly steeped in old charm personality and tradition.
Its humble beginning dates as far back as the pre-world war two era. This historical significance is further sealed by its witnessing of the hosting of two of Malaysia's First Ladies; Tun Dr. Siti Hasmah and Datin Paduka Seri Endon.
Boasting a long string of proud academic and extracurricular achievements, the school's history stretches as far back as when it first opened its doors on 4 November 1912, in a house located at 18 Weld Road (now known as Jalan Raja Chulan).
In 1998, the school was relocated to Jalan Intan Baiduri, Kuala Lumpur with an enrolment of 410 students in 10 classes. All Science labs, the VIP room and meeting room were fully equipped by the end of the year.
In 15 July 1999, the school PA system was fully established, thereby completing its technological and communications infrastructure. On 15 June 2001, the school ushered in the dawn of the much-welcomed information technology age. Datin Amar Elizabeth Moggie, wife of the then Minister of Telecommunications, Multimedia and Post, officially opened the school's Computer Laboratory.
As a forward-thinking organization that embraces excellence and believes in equal opportunities, Rentwise is proud to leave its mark on the pages of SMK St. Mary's journals. After a few sporadic upgrade of IT equipment in batches since 2001 by the Parent Teacher Association, SMK St. Mary is relieved to welcome a much needed major overhaul of its Computer Lab.
Rentwise, Malaysia's fastest growing Independent Lessor for new and/or remanufactured pre-owned IT equipment has sponsored 40 sets of desktops and LCD panels to SMK St. Mary's Computer Lab, as part of its continuous Corporate Social Responsibility (CSR) programs.
This momentous occasion saw three highly qualified Rentwise engineers present to co-ordinate and execute the installation of these refurbished IT assets at the Computer Lab. The dedicated staffs of Rentwise delivered all 40 units of personal computers up through 4 flights of stairs to the Computer Lab situated on the second floor. The setup took an approximate 6 hours.
Recognizing the importance of education and generation of future accomplished leaders, Rentwise saw a need in helping to re-equip the school's computer lab after 11 years since its launch. This upgrade was necessary to afford students of St. Mary's school, a much needed competitive edge in this ever changing fast paced technology-enabled society.
Capitalizing on its core specialty in the sourcing, consultation, support, management and rental services of IT equipment, Rentwise sponsored a range of 40 sets of Dell & HP desktops and LCDs as part of its ongoing CSR program.
This sponsorship would inject new life and breathe new creativity among the students of St. Mary's school, thereby allowing them to experience reasonably-equipped hardware and software at optimum performance. This has been a huge departure and major leap in improvement as compared to the school's previous sluggish and obsolete system and usage of CRT monitors.
With the availability of high speed broadband and better equipped IT infrastructure, students of St. Mary's school can now enjoy quality IT service through a smooth and conducive learning environment, made possible by the upgraded IT equipment.
Following the set up, the desktops were loaded with Internet Security Software sponsored by Trend Micro before they were connected to the Internet with Internet access equipment sponsored by Allied Telesis. HELP University sponsored IT consultancy work to integrate all the systems whilst Canon Marketing sponsored a multifunction printer for all the printing needs. All old and replaced IT equipment were then loaded into the delivery truck to be properly disposed of.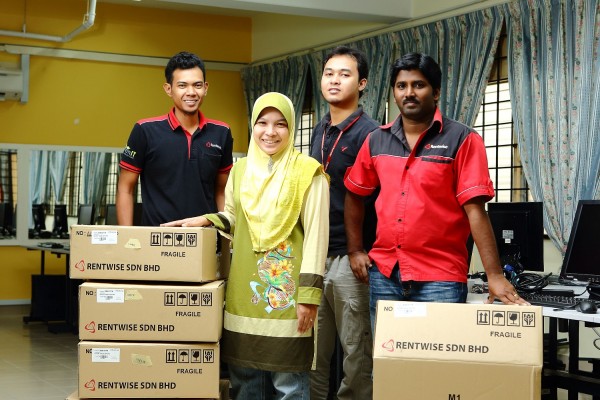 Despite these computers being refurbished, they could very well perform and run just as well as any other new computers. When well maintained and serviced, these refurbished computers can expect to last through another 3-5 years in operation duration.
An extension of this IT equipment life span by redistributing and redefining their key functions to a different consumer segment and frequency of usage is simply brilliant. This "no wastage" policy is evident in Rentwise's core philosophy of upholding a greener practice for a sustainable tomorrow. Thus, it comes as no surprise that a marriage between a CSR program affording opportunities and reducing uncalled-for disposal of recyclable resources is only more than ideal.
Rentwise's CSR program is all about giving back to the society. It aims to help impoverished, marginalized and vulnerable children and their families. This commitment is demonstrated not just through monetary support afforded or equipment upgrades enabled as the current project testifies, but also through pro-active participation and engagement of its employees and their families whenever possible.
With the many significant theatrical performances, musical and sports achievements SMK St. Mary has witnessed over its many decades of existence, Rentwise sincerely hopes its donation of IT equipment will help contribute to the school's many facades of successes and proud chapters. Rentwise hopes this upgrade will be a key enabler in allowing SMK St. Mary to exceed its own expectations by surpassing its long string of awards and excellence in both academic and co-curricular involvements.
The school's 1,243 students should now find no difficulty in drawing inspiration and getting motivated with this upgrade in information technology. These newly refurbished computers will totally revolutionize the way students interact with their peers and their approaches toward learning their subject matters.
Whether be it igniting the passion of a future technologist among its notable alumnae-in-the-making, or simply serving as a source of inspiration to students of St. Mary's school, Rentwise's act of kindness surely does go a long way in impacting impressionable minds.
Being the very innovative company it constantly strives to achieve, Rentwise is always on the lookout for creative partnerships in its growing CSR program. Previous CSR programs have seen Rentwise working directly with charity organisations. However, Rentwise is currently hoping to establish meaningful collaboration with large corporate clients who may consider donating IT equipment deemed obsolete. This IT equipment will then be refurbished before being deployed for a charitable cause. Through this symbiotic partnership, more computers can be donated and hence, more will benefit from its use.
As a big-hearted organisation which preaches practicing sound investment strategy; "Own that which appreciates, rent that which depreciates", Rentwise is certainly living up to its tenets of wisdom for both businesses and the younger generation alike. An investment into the human capital especially in a school as reputable as SMK St. Mary is a demonstration of Rentwise's firm beliefs in paying it forward. After all, there are no better appreciating assets than our very own children paving the way for a brighter future.
Rentwise has definitely redefined the very essence of Corporate Social Responsibility (CSR). Indeed, it is a small step in the making toward a giant leap forward to a better tomorrow.
The students of St. Mary's school have every reason to smile, now that they have unprecedented access and power in their hands to shape their very own future. The power to effect change and court endless possibilities through an enhanced learning infrastructure is an invaluable asset to the school.
This seed of hope sown amongst our younger generation is invaluable.
The price of dreams and inspiration? Simply priceless.
Editorial Contact:
Natalie Ng
Executive Assistant
Rentwise Sdn. Bhd.
General line : +603-3341 6552
Email : natalie@www.rentwise.com
Sales Enquiry: Toll free 1 800 22 2088
Sales Email: sales@www.rentwise.com
Website: www.rentwise.com