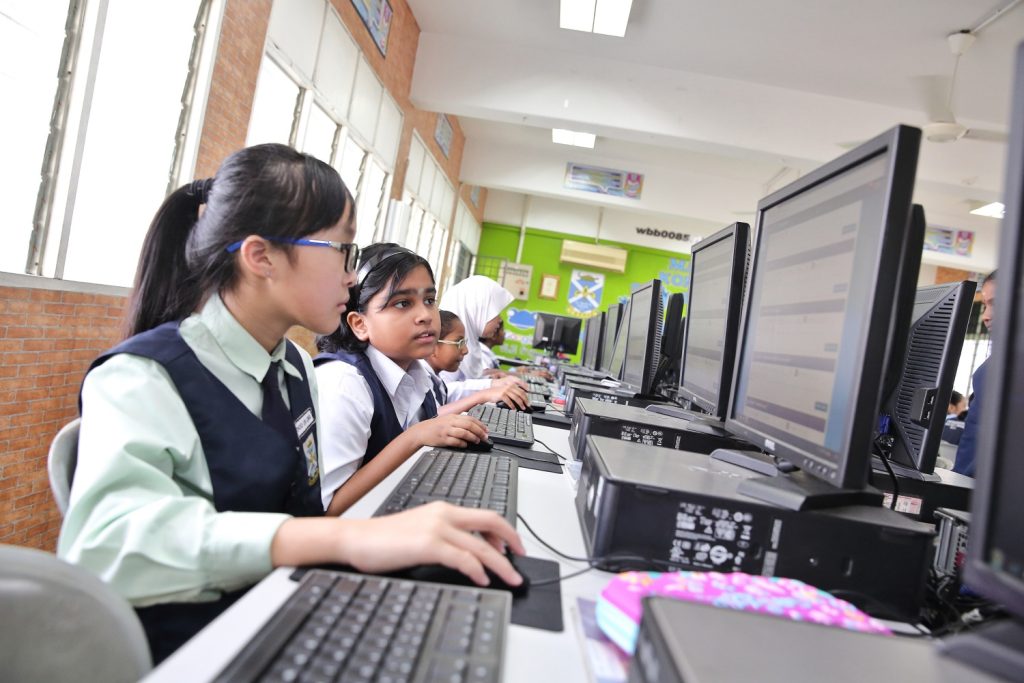 SK St. Mary School received 30 remanufactured desktop computers in early 2017 as part of Rentwise Malaysia's joint CSR program with the Sunway Education group. This momentous occasion was celebrated with an opening ceremony of the school's computer lab.
The setting up of this computer lab was also made possible by donated computers from other parties involved; 5 desktops from Felda ProData and 10 desktops from Hospital Universiti Kebangsaan Malaysia. The desktop computers supplied to Rentwise by the Sunway Education Group were subjected to high standards of remanufacturing process, involving cosmetic refurbishment, change of components where necessary, repair works and installation of selected software before being donated to the school.
Rentwise Malaysia's ongoing CSR campaign since 2012 has been about identifying and helping needy schools without computer lab or having an existing computer lab in dire need of an upgrade. SK St. Mary has been without a computer lab for many years. This has been a huge challenge for both students and teachers alike who aspire for better learning infrastructure.
In 2016, the Parent Teacher's Association (PTA) of the school began planning for the setup of the computer lab. Teachers and parents worked hard to make this dream a reality. Financial assistance for the installation of electrical wiring was also sponsored by the relevant parties to make this computer lab a reality.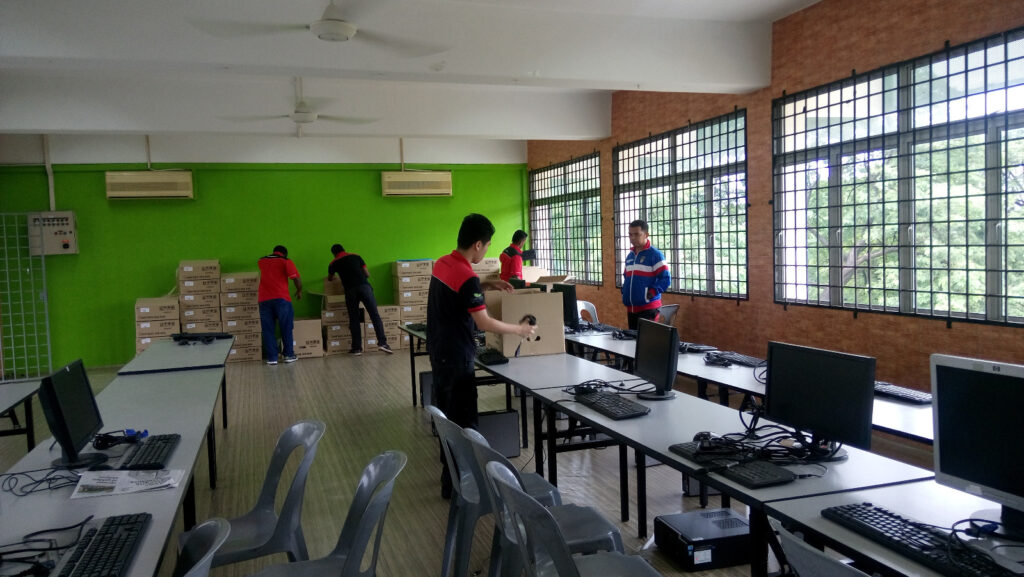 "With this computer lab, we hope to enhance computer skills of our students. Teachers can now create blogs and prepare online assignments for students," says Ngan Wai Fun, the headmistress of SK St. Mary, during the official launch of the computer lab on 16 January 2017. "Now, students can go to the computer lab during their free time or after school hours to do their homework. The Internet has been a great resource for them to do their research," Ngan adds.
All the teachers are really happy to have a new channel of engagement with the students. As a resourceful tool to expand the minds of students, the computer lab is the first step towards realizing bigger changes in the learning process.
As of 2017, SK St. Mary has 957 pupils and about 60 teachers. "Everyone is excited over this new computer lab. Our teachers can now deliver their lessons through carefully designed software and e-activities pre-loaded in the computers," Ngan says.
"Using remanufactured computers help reduce carbon footprint for a greener tomorrow while benefitting our future generation. Rentwise's remanufactured computers are being used by over 200 mid to large size enterprises and business organisations in Malaysia," says Lai Kien Wah, Rentwise's representative, during his opening speech.
"While our effort in Green IT is making progress, it's important for us to contribute back to the community, hence our CSR project together with our partner, Sunway Education Group," Lai says. The Tan Sri Jeffrey Cheah Foundation must be praised for sending their computers to Rentwise to be remanufactured before being donated to the school. "This CSR project is the brainchild of our CEO, Leanne Ooi, as we believe the essential purpose of Rentwise is to provide products and services that benefit environment, businesses and community," Lai explains.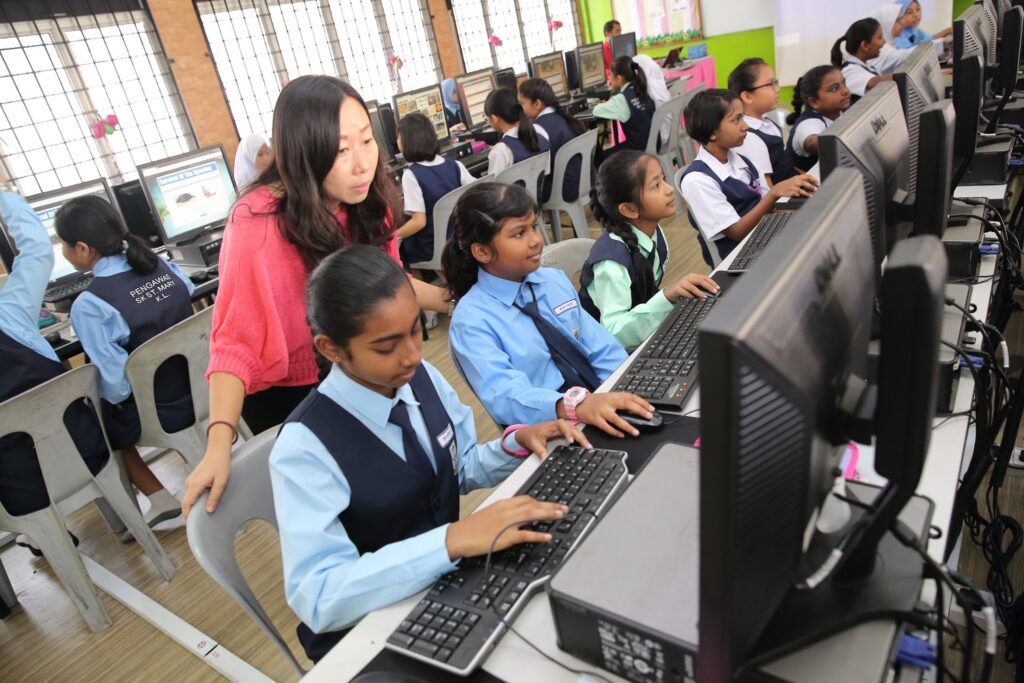 A plaque has been installed outside the computer lab to commemorate its official opening. This was made possible by Rentwise Malaysia and the Sunway Education Group. Lai; represented Rentwise whilst Dato' Stanley Isaacs, on behalf of SK St. Mary school signed the plaque to mark the official hand over of computers by the joint CSR partnership team of Rentwise and Sunway Education Group.
Dato' Stanley Isaacs, the Chairman of the Board of Governors for both St. Mary's Primary and Secondary schools together with the Guest of Honour, Syamsul Rezal bin Abdul Rahman, the Unit Head of Academic Management from Education Office of Sentul Territory proceeded to inaugurate the computer lab in a ribbon-cutting ceremony in the presence of teachers and students.
"To all teachers of SK St. Mary, use these computers to your best advantage in educating the students, as you now have unlimited resources and power in your hands to enrich the learning experience of our future generation," Syamsul says.
Ngan notes that the computer lab is necessary for the development of children's learning. The launch of this computer lab is in line with the 13 years plan of PPPM (Pelan Pembangunan Pendidikan Malaysia) spanning 2013-2025 to use IT to increase quality of education in Malaysia. "Computers are likened to daily essential tools for learning and not considered a luxurious item anymore," Ngan remarks.
With the donation of remanufactured computers to SK St. Mary, Rentwise hopes that this becomes the much needed catalyst to accelerate growth and learning for the future generation of Malaysians. As an advocate of Green IT, Rentwise firmly believes in driving sustainable business while preserving the environment.
Rentwise Malaysia looks forward to partnering with organisations that wish to dispose of their old IT equipment. Our technical expertise and DOE-compliant remanufacturing and IT disposal processes enable us to refresh and extend the life span of old IT equipment for a greener world. Corporate organisations who wish to contribute to this CSR initiative or schools who are interested to apply as our program participants can get in touch with us.