Today there are more than 100,000 Myanmar refugees in Malaysia. 15,000 of them are children of school-going age. According to a UNHCR estimate, only 6,000 of these children attend schools which are set up by various Myanmar community-based groups. These schools are normally referred to as "Learning Centres" and are funded by NGOs or voluntary organisations.
During this visit, our representatives managed to catch up with Matthew Ngoh and Alan Lee, two of the three founders of the PBCC Learning Centre. Matthew and Alan updated us on the plight of the children. "Many of these children marry as early as 13 – 15 years of age! Thus, they are deprived of a healthy school-going childhood where learning is everything at that tender age. I can't stress enough the importance of education when I speak to their parents. Education is the only way out for these kids", says Matthew recognizing the importance of education in steering any child towards the right path in life.
Initiated by Alan and together with good friends Matthew and Pastor Yeoh, they started PBCC 3 years ago when they realized children as young as 2 years were left to fend for themselves while their parents went to work. As basic as it is, the centre gives these children a place to come to for shelter and for a simple meal. Most importantly, it keeps them off the streets. Apart from teaching the children English, the PBCC Learning Centre conducts Bahasa Malaysia classes and teaches the Myanmar Language, Science and Maths to its 28 children, now aged between 4 to 12 years old. Art and IT classes used to be conducted but unfortunately had to be discontinued about a year and a half ago due to a lack of volunteers.
"Back then, IT classes were held every Sunday afternoon for both children and adults," Matthew reveals with regret. "It would really be great to have volunteers help revive these classes at least twice a week to give these children a refreshing boost in their learning pace".
Located on the 2nd floor of a shoplot, the PBCC centre runs on an extremely tight budget. It has 3 full time Myanmarese teachers whom are paid a very small sum of RM 1,600 a month. Rental is RM 600 monthly while utilities come up to approximately RM 100 a month. Apart from giving the children temporary shelter while their parents go to work, the centre also provides basic sustenance to the children. Some of these children bring their own home-cooked lunches consisting of rice and often nothing more than a fried egg while the centre supplements and supplies others who cannot afford a meal; with just a simple fare of milo, crackers and bread.
Most of the learning materials including school books and stationeries are supplied by UNHCR. "We always welcome donations from members of the public, whether in the form of reading materials, food items, clothing or toiletries," says Matthew. "We are currently sustaining on donations by NGOs and churches. Unfortunately, one of the churches is not able to support us financially this year. Nevertheless, we should still be able to pull through another year," Matthew says optimistically.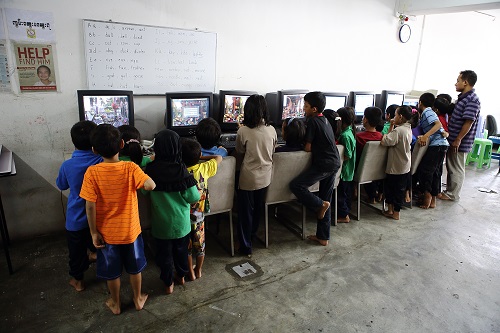 The PBCC Learning Centre at the helm of 3 caring and loving Malaysians strives to continue providing a refuge for the children of the Myanmar refugee community. The struggle of these Myanmar refugees is real. Every day is a constant fight for survival and recognition to be treated as an equal human-being. "It's heart-wrenching at times when you witness poverty-stricken families breaking up and afraid of
The Rentwise Sports Club will be organising an internal donation drive and appeals to all our employees to contribute either cash or in-kind donations. All proceeds collected will be used to purchase books, stationery, food and sundry goods such as canned food, milo, biscuits and hygiene items. Proceeds will also go towards helping upkeep the centre which badly needs maintenance work to be carried out to repair damaged windows.
Another project that we will be kicking off soon is getting 10 staff to volunteer their time to work with the children to make greeting cards, which will then be sold with profits going to the centre. Getting the children involved allows them to exercise their creativity and enables the children to pick up a good skill that can be useful in the future.
We sincerely urge everyone to aid the Myanmar refugees in any way they can; be it giving cash donations or in-kind donations, or volunteering their time to teach the children basic computer skills or card-making activity, which will all help them carve a better future for themselves.
It's easy to turn a blind eye to the brutal reality that unfolds in the lives of these Myanmar refugees. As citizens of the world, we have moral and ethical responsibilities to assist the social and economically-challenged lot. Today is the day you will rise up to the call for a better world. These Myanmar refugees deserve an opportunity for a brighter future.
Change is imminent and it starts with YOU!
How You Can Help:
The centre welcomes donation of any kind from the public, NGOs and corporate organisations. Any enquiries can be directed to Mr. Matthew Ngoh (Email: matthewnth@hotmail.com | Mobile: 016-3804463)
The Pasar Borong Community Centre (PBCC) Learning Centre is located at:
139-2 (2nd Floor), Jalan 2/3A,
Pusat Bandar Utara_Selayang,
68100 Batu Caves, Selangor.