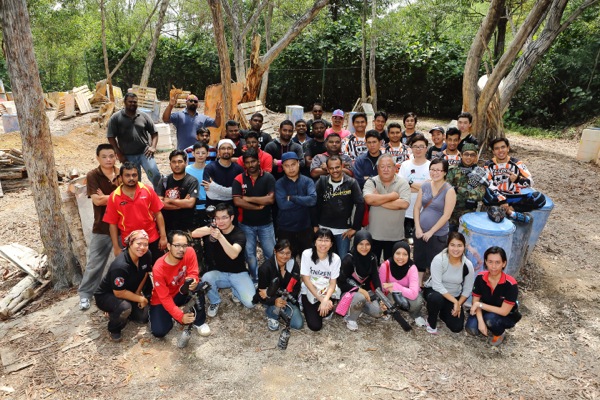 "All work and no play makes Jack a dull boy", as claimed by a proverbial saying. Staying true to this age-old adage, Rentwise recognizes the importance of the play element in "resetting" our many hardworking employees! Rentwisers recently came together for a team building session of paintball at the Shah Alam Extreme Park; the most exciting and adrenalin-packed Sports Club activity of the year.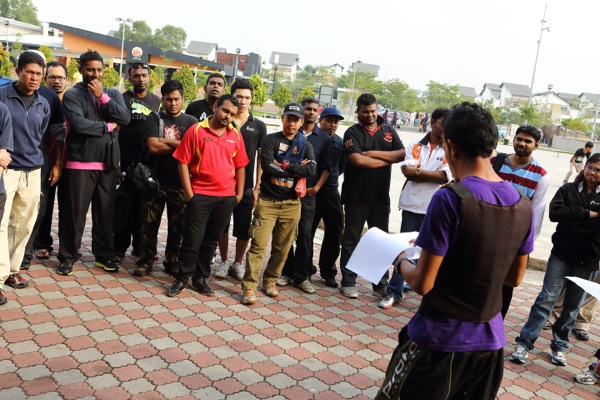 We had a total of 40 participants divided into 8 groups of 5 Rentwisers each. Creative but quirky-sounding names from "Dead Eaters" to "Ops Cantas" were given to each group. Everyone was present at 8.30am for a safety and rules briefing by qualified official marshals. A large majority of Rentwisers had not played paintball before, so it came as no surprise to see the many looks of excitement and anticipation. Many questions were asked and doubts cleared by 9.00 am before everyone proceeded into the nearby shaded woods for the games to begin.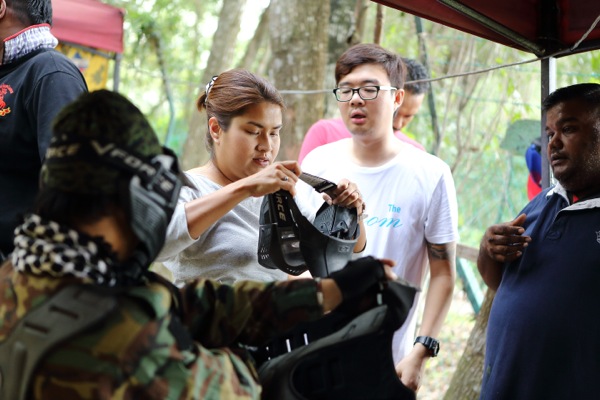 There was a mix of staff from across all organizational functions and even fellow Rentwisers from Rentwise Singapore were also flown in specially to join us in this event. It wasn't just all male participants in this action-packed game; 7 ladies took up the fun-filled opportunity to prove their combat skills on the field too. You would have been surprised that 2 of the winning teams had ladies in them! In fact, the ladies treaded the field gingerly and maneuvered themselves with their small but flexible frames which proved to be a lethal combination against their largely male opponents.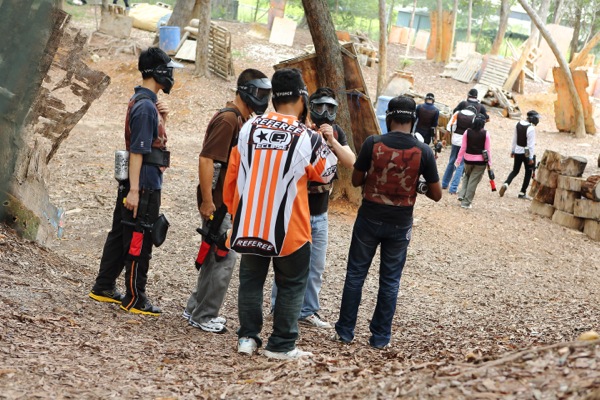 The games started at about 9.30am after everyone got comfortable with putting on their face masks and protective vests. Markers were loaded with vegetable oil-infused paintball pellets and pressurized before being distributed to players who were strictly warned not to remove their face masks upon stepping into the playing area. A team was disqualified for having one of its members remove this face mask while on the field even after a game concluded. Safety regulations were extremely strict as a precaution to prevent anyone from being accidentally hit by stray pellets, which could cause serious bodily damage.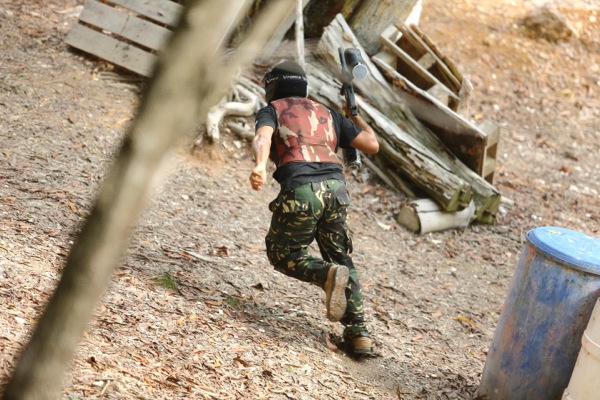 It was such a fun session. All work stress melted away the moment Rentwisers stepped onto the field. The playful characteristic of the "little kid" deep down inside everyone of us made us forget our work challenges with one another as we battled each other out. We cheered our team mates on from the side lines. We even made jokes about how some of our colleagues should or shouldn't be playing. That only made us laugh even more, thus adding to a light-hearted and relaxed atmosphere. It definitely fostered a high degree of camaraderie amongst us.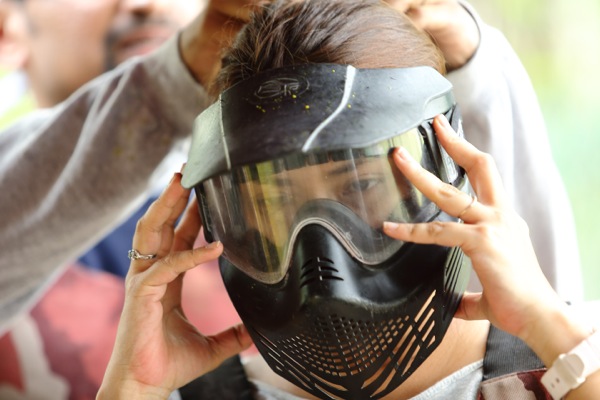 Looking back, this reflects how we have and want to work in the office. The very same spirit of fun yet seriousness with our work just manifested itself in a totally new environment. While getting the job done is crucial to our success, it's equally important to take a step back to unwind and enjoy ourselves in the process. This paintball team building event served up plenty of opportunities to strengthen the emotional and professional bond between us towards making a better and more cohesive organizational unit for our overall success.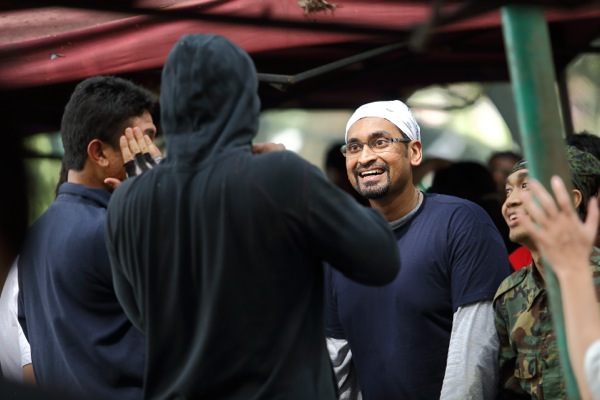 Paintball, just like soccer, is a team effort. While the latter's goal is to get the ball into the opponent's goal post, the former focuses on eliminating your opponent by "painting" them or grabbing the flag from their base for victory. One needs to provide firing support for one's team mates as they move forward into position. Communication is essential in alerting your team mates on the dangers ahead and planning your next move as the enemy threatens us with new strategy and tactics. We see no difference in our work from all these elements of the paintball game. There are many similarities which could be drawn from the game and applied to our working lives.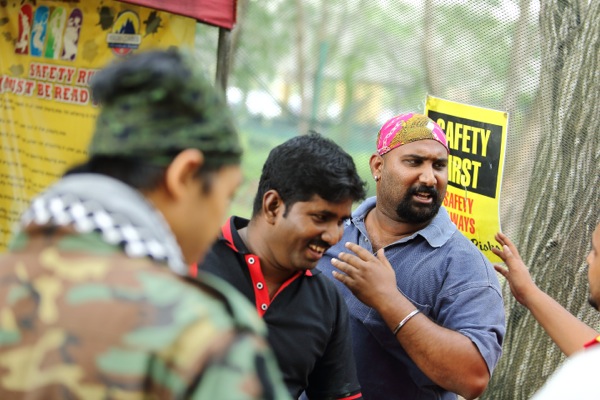 The 8 competing groups were narrowed down through many rounds of playing, leaving only 4 groups in the quarter and semifinal rounds. Eventually, after an intense round of battle between "Headshot" and "Ops Cantas", the former emerged the winner while "Cricket" clinched the second runner up place after beating "Deadline Five" who did not go down without fighting.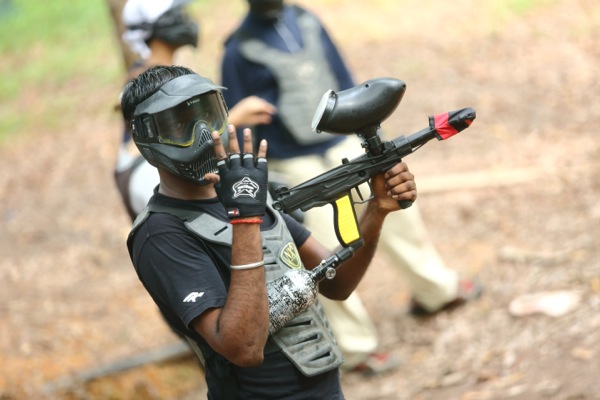 By 12.30pm, everyone adjourned for lunch and cold drinks, much to the relief of the many Rentwisers who were exhausted from all the running, dodging, crawling and squatting! A small prize giving ceremony followed suit with gold, bronze and silver medals presented to the winners, along with gift hampers and other goodies as well.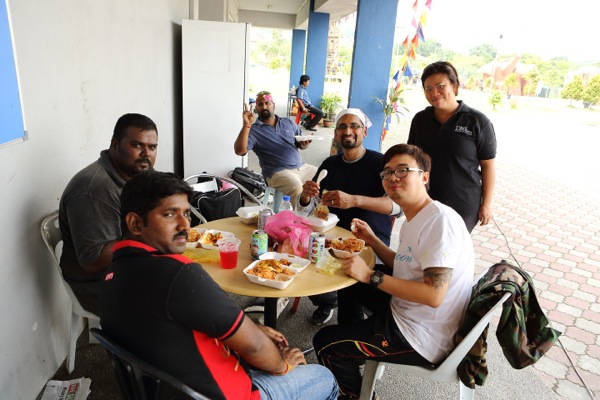 This paintball team building event would not have been a huge success if not for the efforts of Fariz Fawzi, the main organizer who contributed much to helping the Rentwise Sports Club committee in realizing this event. This get together session was made even more meaningful by the participation of many sporting Rentwisers who put aside their personal time to bond over the weekend.
Paintball indeed is a fast-paced but fun game that promotes healthy competition among those who dare to give it a try. It never fails to deliver on its promise of an exciting and thrilling adventure of wits and tactic. More importantly, it is an excellent morale booster for all Rentwisers who seized the opportunity at becoming weekend warriors for once!