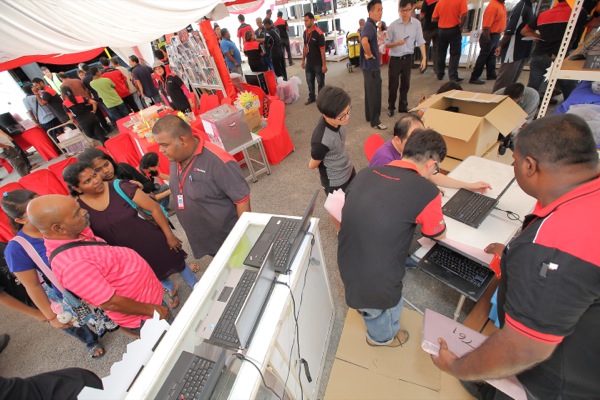 The much-awaited Rentwise Warehouse Sale for refurbished IT equipment made a comeback, after the last event in December 2012. This year's mega sale brought even better and irresistible offers ranging from branded desktops and notebooks to workstations and monitors that satisfied most if not all buyers' diverse requirements from word processing to hardcore gaming.
The Sale kicked off on 30 May and ran for 3 days till 1 June 2014 at Rentwise's headquarters in Seksyen 7, Shah Alam from 10 am till 7 pm. As compared to the previous Warehouse Sale, double the amount of people looking for bargains were seen and upon arrival, visitors were asked to register themselves to enable future offers and events to be communicated easily to them.
As the Sale progressed, High-end graphic workstations topped the favourites list of fast moving items. Deals were made all the more sweeter where just an additional spending of RM 100, gave buyers an option to add on a year-long carry-in warranty for any refurbished IT equipment purchased.
Among the business range notebooks on sale were the Dell Latitude E6400 at RM 799, IBM Thinkpad T400 at RM 650 and IBM Thinkpad X61 at RM 599. 17" LCD Monitors were priced at RM 88 while the branded Dell 22" LCD Monitors were going for a mere RM 200. A branded Core 2 Duo Desktop was priced at RM 299 while a Dell Optiplex 380 was at RM 350. Offers were undeniably attractive. Value-seekers and bargain hunters were clearly impressed at the good balance between affordable refurbished branded IT equipment with that of high quality specifications and that resulted in Rentwise selling well over 300 desktops and notebooks during the Sale.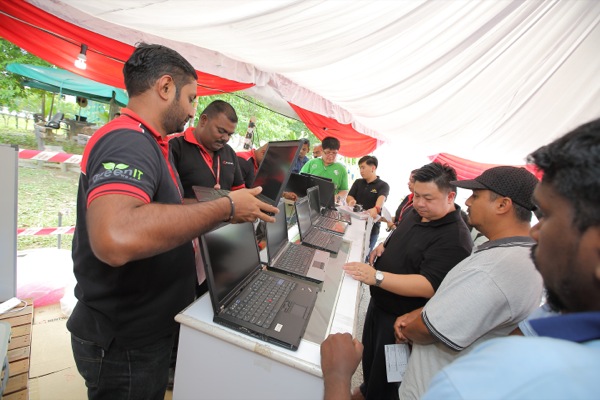 Customers who bought RM 200 and above worth of items in a single receipt were also rewarded with a lucky draw opportunity to win a brand new Lenovo 7" Tab.
As part of Rentwise's Corporate Social Responsibility outreach programme, the Pusat Borong Community Learning Centre (PBCC) was invited to participate in a fund raising exercise through the sale of snacks, drinks and ice cream at a designated booth. All proceeds from this activity went to the centre's Myanmar Children Refugees. A number of the children refugees from PBCC were also present to man the booth.
The availability of ice cream and cold drinks certainly did help lift the mood of customers and fellow Rentwisers who appreciated any means to escape from the heat. An interesting twist to this year's Warehouse Sale was a simple exhibition of 31 portraits of the Myanmar Children Refugees photographed by Mudframes Pictures. The professionally shot photographs offered these children the experience of being photographed in a "studio-like" setup.
These A4-sized photographs were available for sale at RM 20 per copy. Customers who purchased the prints did so on behalf of the children so each child could have a picture of themselves. Every copy sold was indicated with a red sticker and soon enough, all 31 prints on the board spotted a neat looking red dot!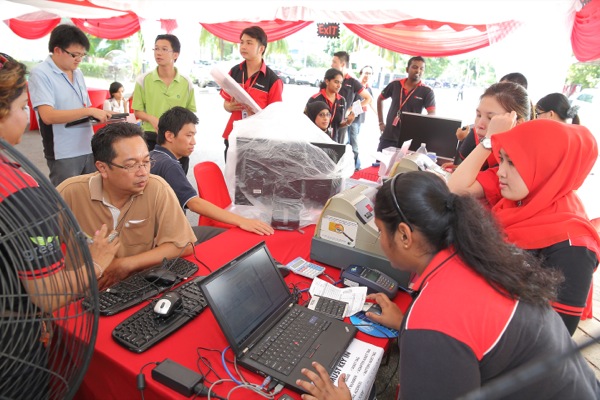 In addition to the sale of foodstuff and photography prints of the children, Rentwise donated RM 10 to the Myanmar Children's Refugeee Camp for every PC or notebook sold.
Through the Warehouse Sale, Rentwise also launched ITwise, the Rentwise IT remarketing division. ITwise aims to make branded refurbished IT equipment affordable and accessible to the mass consumer market, which encompasses corporate users, students and home users amongst others.
We were truly happy with the excellent response we received during our 5th Warehouse Sale and the support of loyal customers as well as new ones. We would like to take this opportunity to thank all our loyal customers for their support and we hope that you continue to stay with us as we grow.
Lastly, we were very happy to be in a position to deliver quality for value. Refurbished as these IT equipment may be, more often than not, they outperform their apparent age. That means enabling our customers to enjoy branded and reliable refurbished IT equipment at a fraction of the cost. That's what makes us proud!