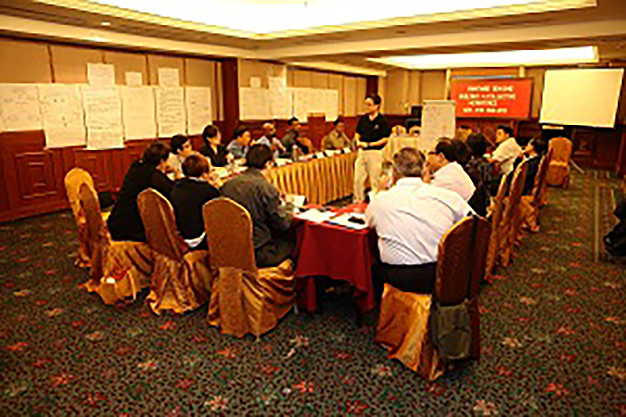 The greatest and most prized  asset for a  company today is no longer its brand, inanimate tools or intellectual property (IP) but the very people who make up the workforce that breathe life into the business. Talent management and talent retention should therefore sit very high on the list of priorities when it comes to human resources (HR) management.
Earlier this year, we worked very closely with a group of specialized HRM consultants to specifically design and tailor a range of HR programmes for the different working levels within the company which we then embarked on, to top grade and up skill our work force. Recently concluded was the second series of a three-part series, "Building a Collective Performance Workforce" leadership programme; an intensive mentoring, training and coaching initiative for people managers to mould and prepare future leaders of Rentwise.
The first series of this programme, "Negotiation for Non-Negotiators" took place from 5 – 6 November 2012. This part one saw participants addressing challenges on internal negotiation. In the second series, participants were able to establish the 3 key leadership essentials, which are the "5S-1M" Principle, "The Power of Nine" and "The Sun Tzu's Philosophy on Moral Influence" that the company needs at this current stage to align the workforce towards organizational excellence. Participants were also given the tools and techniques needed to drive the workforce to adopt the 7 organisational core values needed to ensure they deliver collectively the vision and mission of the company.
The final series, "Coaching & Mentoring: Empowering To Drive Intentional Results" which will  be held end of March 2013 will prepare leaders to manage the many aspects of Human Resource crucial in delivering outstanding results via a performance focused work culture.
The 18 personnel present for this training consisted of Production Executives right up to the Top Managers. Irrelevant of seniority, each participant was required to participate in working groups to ensure everyone's opinions were heard. Discussions were engaging, critical points addressed with ideas exchanged as to how a highly efficient and productive working environment can be achieved.
All these people-centric key developments and enhancements that we eagerly champion are instrumental in the building of better customer relationships. We continuously strive to strengthen our employees in both soft and hard skills; to ensure customer satisfaction. Of course, all these were done to uphold our main philosophy of always putting our clients first by ensuring customer service excellence. This is only possible if we invest in our human resources.
At Rentwise, not only are we committed to building an all-rounder talented workforce; we help our staffs unearth and hone their skills at various levels to realize their true potential. Sir Ken Robinson, the English author and speaker aptly puts this into perspective:
"Human resources are like natural resources; they're often buried deep. You have to go looking for them; they're not just lying around on the surface. You have to create the circumstances where they show themselves." ― Ken Robinson