Many companies have great and wonderful IT Infrastructure road map to ensure their company operations perform efficiently in order to achieve more financially. However, having an IT asset disposition strategy is equally important to maximize the ROI of the investment made in the IT infrastructure.
Companies who have a structured IT asset disposition strategy often spend less in managing the disposition in terms of manpower and time which translates into cost saving for the company while getting the best value out of the IT equipment which are meant to be disposed of.
This scenario is best explained in the 2 diagrams below: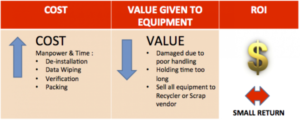 Unmanaged & Unstructured IT Asset Disposition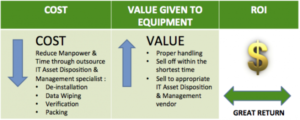 Managed & Structured IT Asset Disposition
Great returns can be reaped from IT asset invested earlier during the disposition period. They are then no longer considered scrap items that merely provide a small return to the organization. IT is definitely worth a lot more if we work with an IT Asset Disposition & Management specialist.
Green IT – Preserving our environment
Making a Difference (M.A.D) together is not just reaping good value from the disposed IT equipment but it also plays a crucial role in preserving our mother earth. A responsible IT Asset Disposition & Management Specialist will ensure all equipment is either Re-used or Recycled.
Re-used through responsible refurbishment of IT equipment with a market-accepted processor technology are executed as follows:
The IT equipment will be fully tested to ensure good functionality.
Parts are changed to prolong the lifecycle of the equipment.
Cosmetic touch-ups done on the equipment to improve presentation.
The objective of responsible refurbishment process is to reduce the carbon footprint and preserve our environment through less resource usage. Production of new computer or IT equipment entails consumption of high-energy resources involving metal and copper. Hence, the lesser IT equipment produced, the lesser resources will be required of our mother earth.
It's important to recycle all faulty and non-functional equipment (e-Waste) responsibly to stop pollution. All e-waste MUST go through a proper recycling process by Department of Environment (DoE) certified recyclers. Every part of the IT equipment that can be salvaged will be recycled to manufacture new components. This ensures minimum if not zero waste being sent to landfills as most of these materials are non bio-degradable components.
Naturally, corporate organizations will reap great benefits by maximizing their investment of purchased IT equipment through responsible recycling. By so doing, an organization gains satisfaction of being responsible towards preserving our beloved earth and putting a stop to pollution through effective IT asset disposition strategy.