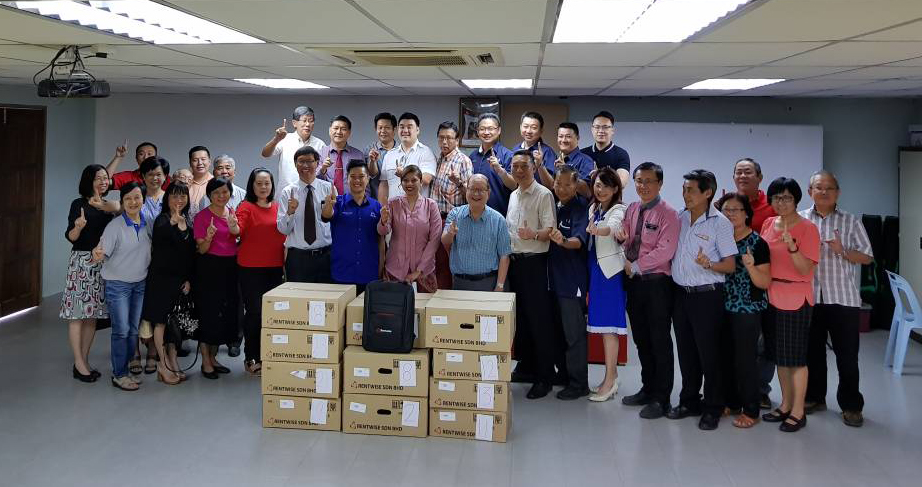 As part of our community development, Rentwise initiates and runs CSR programmes. Semi-government aided schools or NGOs are invited to speak to us about their IT infrastructure requirements. Over the years, we have helped create or upgrade the existing ICT facilities of a number of needy schools and NGOs. Many of these programmes are run in conjunction with our corporate clients who partner with us to monetize and revitalise their retired IT equipment for worthy community and youth development causes through the process of Remanufacturing.
With the Government's commitment to embrace and adopt digitization, the 1BestariNet Project, headed by MOE, was initiated. This programme connects government schools across Malaysia via the Internet to provide an online learning platform in conjunction with the Frog VLE (Virtual Learning Environment). This is in line with Improving Student Outcomes (NKRA).
One of our Company's core values is 'Self Development'. This drive coupled with a self-sustaining momentum is essential to empowering our youth to advance into the global technological and digital arena. Rentwise is continuously committed to enhance the education infrastructure with comprehensive digital platforms.
Since our first successful launch of a CSR programme in 2012, Rentwise has since provided over 310 sets of Remanufactured computers, benefiting over 8,200 students across various institutions and organisations.
Rentwise is happy to work together with the Ministry of International Trade and Industry (MITI) to extend our coverage to identified schools in Kota Bahru, Kelantan.
In our latest project, we are working to enhance the existing infrastructure of the following 5 schools.
1. SJK (C) Chung Cheng, Kota Bharu
2. SMJK Chung Cheng, Kota Bharu
3. SJK (C) Peir Chih, Kota Bharu
4. SJK (C) Chung Hwa, Kota Bharu
5. SMJK Chung Hwa, Kota Bharu
Each school from the above list will get 5 Desktops and 5 Laptops which will be used in their ICT Labs, classroom or libraries. This comes as a huge benefit to the almost 6,500 students collectively who will now be able to unlock unlimited potential in their access and journey to obtain knowledge for an enhanced e-learning experience. We hope to identify a few more schools in Kelantan that will significantly benefit from our CSR program.