Rentwise Malaysia's Corporate Social Responsibility (CSR) initiatives began about 10 years ago. The CSR campaign has been about identifying and helping schools without computer labs or those having existing computer labs in dire need of an upgrade.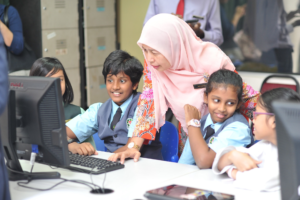 Tony Lee, Director – IT Services, Sunway Education Group spoke fondly of the CSR programme which benefits the younger generation.
"The CSR effort is really the logical step beyond going green, as we look at the lifecycle of what we do, the impact to the environment and we start to develop a concern for what's going to happen. As a result of that, we started our Green IT journey. The Green IT journey calls for us not just to use technology, but to factor in the idea of how sustainable is that technology that we are adopting."
Sunway sees Green IT as a logical step for them to work towards a greener future. With the help of Rentwise and their expertise, the Sunway Education Group was able to donate their computers and IT infrastructure to schools in need.
Sunway looks forward to working further with Rentwise Malaysia who has a similar purpose and line of interest.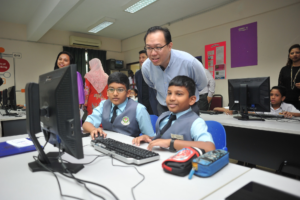 Leanne Ooi, CEO of Rentwise Sdn Bhd says, "We have been refurbishing PCs that were coming off lease and selling it to the market as we are a business that remanufactures PCs since August 2001 and we felt that it will be good to equip schools with PCs and started with 1 – 2 schools in the beginning".
Over the last 10 years, the CSR programme has covered more than 20 schools and NGOs. "We felt that it will be a good collaboration with Sunway Education Group as they are owners of thousands of machines", she emphasized.
"The Sunway Group are educators themselves. We asked them if they would collaborate with us on school projects, and they were very keen, to date we've done 3 schools, and there are many more in the pipeline."
We at Rentwise are very passionate about education and are always looking for a way to impact the community the best we could. We realized that we could help children by equipping schools with PCs and giving them the education level that was needed and that would be very impactful as a sustainable CSR project.
Rentwise is in the business of remanufacturing PCs, in which we provide PCs a second lease of life – back to the corporate and public. But what we need is a consistent source of supply.
"The more supplies we have, the more we can remanufacture and provide out to schools and organizations of needy, to the public, and people who need a good remanufactured machine."
We have a programme where we collaborate with interested corporates, buying back 80% – 90% of their retiring infrastructure and ask for 10% – 20% to be donated to us. We would then remanufacture the PCs and deploy the machine to any needy school or organization. We would also provide support for the next 2 – 3 years, ensuring the machines are functioning to get a good useful life cycle of these machines.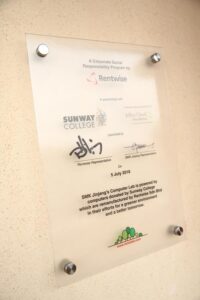 As part of our community development, Rentwise initiates and runs CSR programmes. Semi-government aided schools or NGOs are invited to speak to us about their IT Infrastructure requirements. Over the years, we have helped create or upgrade the existing ICT facilities of a number of needy schools and NGOs. Many of these programmes run in conjunction with our corporate clients who partner with us to monetize and revitalize their retired IT equipment for worthy community and youth development causes through the process of Remanufacturing.
Since our first successful launch of the CSR programme in 2009, Rentwise has provided remanufactured computers across various institutions and organizations, benefiting over 17,000 students.
We welcome any interested organizations to collaborate with us on our Green IT journey and to contribute towards this holistic endeavor.