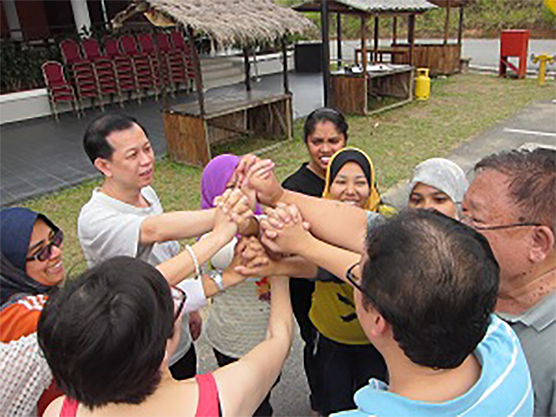 Dear Fellow Colleagues,
It's been a few weeks since our company retreat and annual dinner at Janda Baik, Pahang but I'm still feeling the good buzz from the trip! How about all of you?
Let me just share a brief summary of this special event to enlighten our colleagues who couldn't join us. Everyone gathered bright and early on a sunny morning on 15th September 2012, all excited and geared up to start the journey. We set off at around 7.45am and managed to reach our destination at 9.30am. Even at first glance, the Cherengin Hills Convention & Spa Resort was a beautiful, tranquil hillside retreat surrounded by lush tropical landscape and a stunning location perfect to hold our company event.
Our cheerful trainer for the day, Mr. Roy Tan kicked off the team activities superbly by getting the guys and girls to line up in two lines and giving each other massages to wake ourselves up! A great ice-breaker which made everyone feel more relaxed and comfortable with each other. After that everyone was split up randomly into four groups and the team activities began.
The first activity of the day was an entertaining one, sort of like playing the twister game where there were rows of numbers spread on the floor and each player had to place their hand and foot on the numbers called out by Roy. The game was to test not only how flexible our bodies could be, but more importantly on the significance of trust, supportiveness and cooperation within the group. Sure enough there were several yoga masters showing off their poses there!
Next we all did a personality test to determine which type of personality we were, aimed at better understanding ourselves and naturally those we work with. There were 4 core personalities – Visionary, Nurturer, Commander and Analyser. It was definitely interesting to find out which personality type we all belonged to, as it will help to guide us on how to approach and work with each other better.
The major 3 Principles to develop High Performance Work Teams that were constantly highlighted during the team activities were:
Ideas: Tap into the creativity and potential of people of all levels to adapt quickly to the volatile economy.
People: Any successful organizations needs people who are high performers and also work well together.
Time: Be mindful of time, be punctual on meetings and deadlines, and always be ready to seize opportunities when they arise.
There were many other fun and engaging activities that day and it will be too long to describe all of them. The common themes were recognizing the different personalities that drive us, emphasizing that mutual trust and respect are the building blocks of lasting working relationships, realising that each of us has our own values and that the success of any organizations depends on strong teamwork and collaboration from individuals to produce high-quality results.
Let's just look at the wonderful photos below that say it better than me:
At the end of the day, it was truly inspiring to see everyone regardless of departments or designations, united as one with great team spirit to solve all the tricky challenges thrown out. Ideas were bounced off each other, discussions were lively and healthy, and there were strength in numbers. We understood now how the word "Impossible" can be changed to "I'm Possible".
Finally, the highly anticipated annual dinner! Everyone was dressed up in their finest following the 70s theme. A big round of applause must be given to all the group performers who put so much planning, effort and time to come together to give fantastic performances.
Group 1 – "The Funkadelics" presented a short play based on the popular Bollywood film "Bobby 1973". The show was highly entertaining and the acting was hilariously funny.
Group 2 – "The Freestylers" were a quirky mix of multicultural diversity group. Started off by singing and grooving to the popular 70s Malay song "Seiring Sejalan", switched to Bangra (Sikh) dance, Chinese Lion dance and ended by dancing to the current worldwide craze "Gangnam Style". The group members are budding hip hop artistes who totally outdid themselves with crazy dance moves that left us all in stitches!
Group 3 – "The Continental Drifters" gave their best dancing to the classic 70s disco hit "YMCA", then shuffling to the coolest dance moves of "The Sid Shuffle – Ice Age: Continental Drift".
Group 4 – "The Singaporeans". They took 4 weeks to create a touching, heartwarming presentation of Rentwise's history and its people. Warm accolades were given to colleagues who had left but made their mark, while existing staff and new blood were celebrated, since they will be the ones to continue to build the company and push it to a new frontier.
When the winner of the group performance was announced, it came as no surprise that Group 2 – "The Freestylers" won by a landslide, as they captured the hearts of the audience as well as the judges.
Best Dressed Male and Female of the night also garnered the most votes as they really went all out with their 70s-style costumes. Mr. Timothy Mak aka Avis Mak won the Best Dressed Male category impersonating Elvis Presley, while Ms. Mandy Sam won the Best Dressed Female category dressing up in a blonde wig and retro clothes and accessories!
One of the sweet surprises of the night was that everyone who attended the dinner was eligible for the lucky draws! All 39 of us won something, no matter if it's small or big prizes. So there were no losers that night, only happy winners!
Best Performance Winner: Group 2 – The Freestylers!
Group Members: Naga, Vimalan, Perdip, Rosmima, Sharizal, Richard & Thaneswaran
Each of the performers received Parkson/Jusco Vouchers (RM 100/pax).
Best Dressed Male
1st Prize: Timothy Mak, Runner up: Kelvin
Best Dressed Female
1st Prize: Mandy Sam, Runner up: Wendy Tan
*1st Prize Best Dressed Male:
NTUC Vouchers SGD 100
*1st Prize Best Dressed Female:
Parkson Vouchers RM 150
Runner ups:
Parkson Vouchers RM 100
Lucky Draw Winners:
1st Prize – iPad 2: The Lady in Red, Yvonne Chen
2nd Prize – Microwave Oven: The Hip-Hopper, Thaneswaran
3rd Prize – HP Printer: The Photographer Extraordinaire, Termizi
* Other prizes included a rice cooker, Ipad docking, glass chess set, pendrive, wireless drive, multimedia speaker, HP printer, HP carry case, Jusco & Parkson Vouchers.
Special thanks to the Sports Club Committee Members for organizing the event and making it happen!
Vijay
Wendy
Aisyah
James
Chandra
Termizi
To sum up, it was a superbly successful outing at Janda Baik, Pahang. Firstly, we got to know each other in a more personal level during the trip and also found out the many hidden talents among our fellow colleagues. All of us learned the tangible value of communicating effectively with one another and that by joining forces together – we can overcome any challenges that come our way especially in these times of economic uncertainties.
We hope that our next company event will be even more successful and that all of you will participate as eagerly and excitedly. For those who didn't make it this time around, make sure you do not miss out on all the fun and merriment during the next outing!
Editorial Content
Natalie Ng
Executive Assistant
Rentwise Sdn. Bhd.