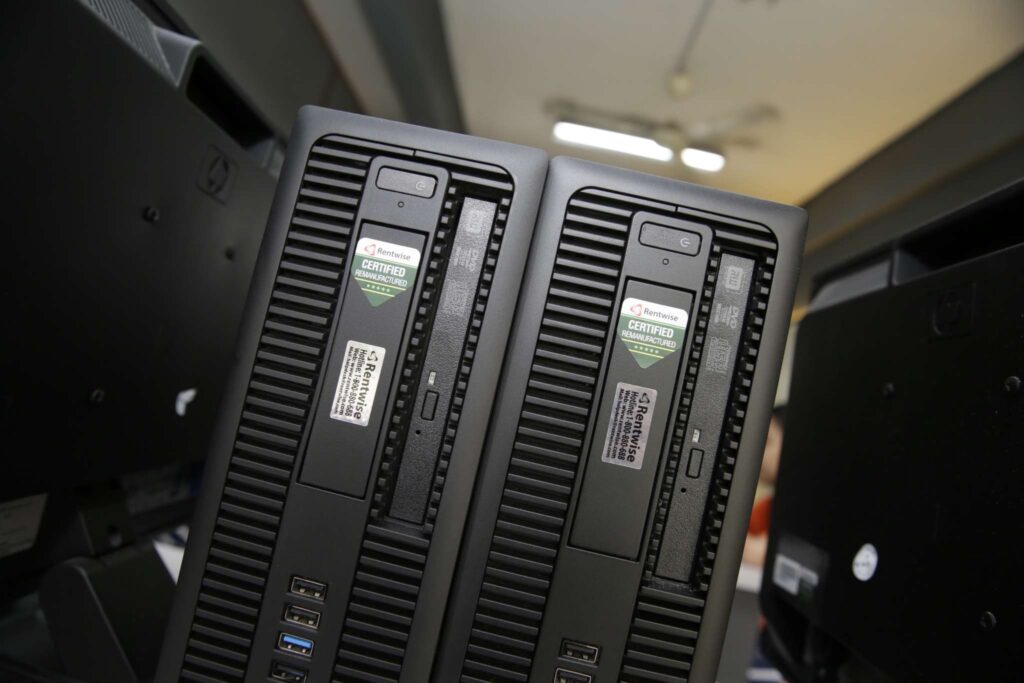 It's truly an honour and privilege to be working with Sumitomo Corporation Asia & Oceania Pte Ltd, Kuala Lumpur Branch (SCAOKL) & Sumitomo Corporation Malaysia Sdn Bhd (SCMY) in a joint CSR programme to donate 10 units of remanufactured desktops to SMK Taman Klang Utama (PPKI – Program Pendidikan Khas Integrasi / Special Needs Education Integration)'s special needs division on the 28 July 2022. Katsuhito Horiguchi, the General Manager of SCAOKL who is also the Managing Director of SCMY,  Charley Chang, Head of Technology Services at Rentwise, and Pn Hjh Umi Kalsom binti Mohd Wahi, Headmistress of the school, officiated the opening of the computer lab during the launching ceremony.
"Education is the most important thing that we can contribute to society. When I first arrived this morning, the children and teachers' faces were so bright. It was such a welcoming sight. I understand that this school has both the regular or mainstream learning and the special needs division as well," says Mr. Horiguchi. He is glad that Rentwise and SCAOKL/SCMY have collaborated to ensure the 10 units of remanufactured desktops are put to good use for the special needs education programme.
"This is a timely move as the school is gearing up their special needs digital syllabus teaching to be in line with current needs. I sincerely hope our computers can effectively support their learning process. Our company has activities worldwide. In each area, we are trying to find out how to best contribute to society. We work with people, and that's what we are doing today and will always be doing," Mr Horiguchi adds.
About 65% of the students of SMK Taman Klang Utama are from the B40 category; which means they are at the bottom 40% of the Malaysian household income. Some parents cannot even afford to pay for the Parents Teachers Association's fee of RM 80 per year per family. Education is clearly one of the ways to combat poverty. With these donated remanufactured computers, hopefully, technology can be used to accelerate the children's computer learning abilities, thereby affording them a competitive advantage in this increasingly digitalised world.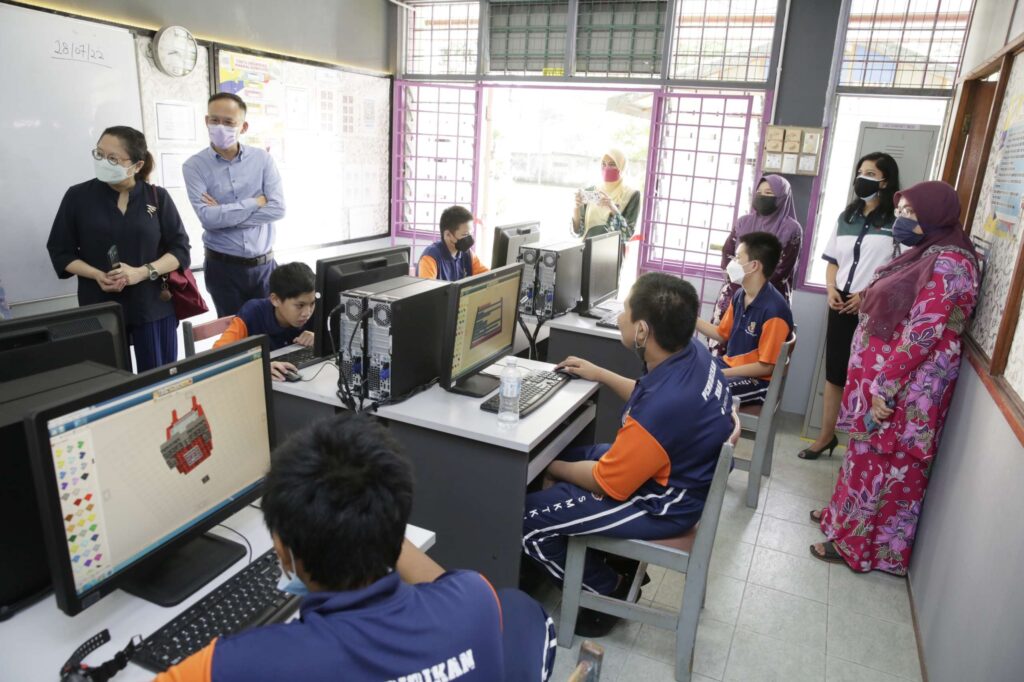 "This school has students with special needs education. Our special needs education programme which includes a Basic Multimedia module on digital learning helps them to achieve social independence and academic excellence. We have more than 90 special needs children. Before we got this donated computers, we were borrowing notebooks from mainstream students to be used by the special needs students. With this donation, I believe the children would find more motivation and comfort in their learning," shares Puan Umi Kalsom of the challenges faced in digital learning by the school's students.
"As a National Champion, this school has just won the Digital Utilisation Technology Awards (special needs children category) back in July 2022, beating the state of Kedah. These donated remanufactured computers came at an opportune time to enable us to make greater strides in our children's digital learning. They complete our endeavours to achieve bigger breakthroughs in digital education. I was even made to understand that several other PPKI schools will be visiting and using our school as a benchmarking reference for their own digital learning framework," Puan Umi Kalsom adds with a glint in her eyes.
Puan Umi Kalsom sincerely hopes that this digital advancement experienced by her special needs children's ICT learning can also be extended to other areas of the school. She certainly hopes to see further digitisation of her mainstream students' learning and management of teachers' & students' affairs besides the main purpose of empowering for academic excellence.
"On behalf of all teachers of this school, I express my heartfelt thanks and appreciation to SCAOKL/SCMY and Rentwise for these donated remanufactured computers. This assistance is truly unexpected and as such, I believe the teachers are more motivated and dedicated now that they feel they have a more meaningful connection and relationship with society at large, with this technological upgrade. It has certainly allowed us to achieve many other visions which we could only dream of before this," Puan Umi Kalsom concludes.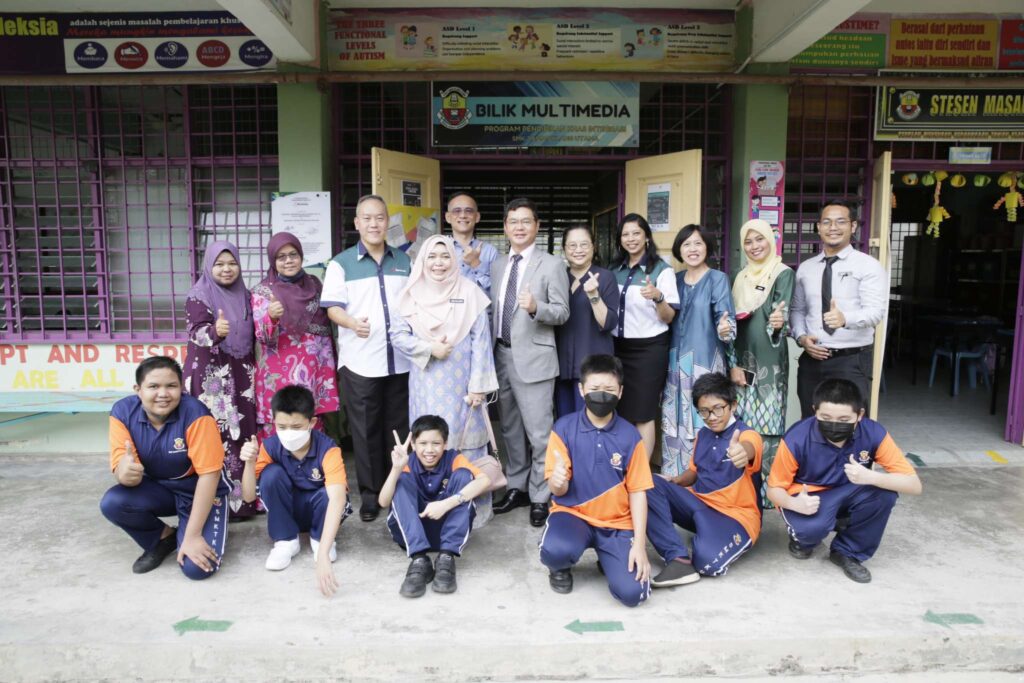 Rentwise would like to thank Katsuhito Horiguchi of SCAOKL/SCMY for his enthusiasm and recognition of this small but highly important initiative as part of Rentwise's ongoing Digital Learning Empowerment Program (DLEP). We are always on the lookout to work with many more corporate organisations to help them recover much more value than is possible from retired IT equipment as part of our commitment to energise the Circular Economy in Malaysia.
Here's to fulfilling United Nations Sustainable Development Goals 4 (Quality Education) and 12 (Responsible Consumption & Production). Happy children, Happy society, Happy environment! Happy days ahead indeed.
---
Recognising education as a fundamental human right and the importance of digital learning capabilities, Rentwise constantly seeks to establish collaborative partnerships with corporate organisations who are looking at responsible ways to dispose of their IT equipment when they retire old computers. Please do get in touch with us to discover a whole new way of saving the environment and empowering our future leaders at the same time, all by just a single simple act of kindness.